On January 21, 1801 the Governor of the Spanish part of Santo Domingo, Don Joaquín García, sent a letter to the then President of the United States, John Adams. The letter was published on March 11, 1801; at that time the President of the United States was Thomas Jefferson.
The letter was dated on January 21 and relates to the brave action of an American citizen during a trouble faced by a schooner when it was transporting several Dominican women and children to Puerto Rico. The schooner was off Isla Saona in Dominican waters.
It must be remembered that during the eight Haitian invasions many Dominicans left the island mostly to Puerto Rico, Cuba, and Venezuela. The act which it mentions in the letter took place during the first Haitian invasion of Toussaint Loverture. The year after all the Spanish towns of the island accepted the invading French forces of Charles Leclerc which was sent by Napoleon Bonaparte.
The Letter of D. Joaquín García to Thomas Jefferson in 1801
Wednesday, March 11, 1801

Translation of a letter from Don Joaquín García, governor of the Spanish part of St. Domingo, to the then President of the United States.

SIR,

The great humanity (the offspring of a magnanimous breast) of a military officer of the United States, deserves the greatest applause and consideration from me and my whole nation. It was displayed in his recent conduct towards two numerous families, who were removing from this city to Puerto Rico, and composed of many children and ladies of quality.

This officer is Charles Stewart, Esq. Captain of the armed schooner Experiment, who, whilst the accidents of the sea threatened to overwhelm him, observed that near the island of Saona a schooner with a multitude of women and children cried out for help. To save themselves from becoming the unhappy victims of the tempest or of the want of nautical skill of Capt. Christian Graneman, a Dane. In the hardness of his heart strove to save his person and effects by going on shore and leaving so many human creatures exposed to the turbulence of the waves. An extremity which presented to them a near prospect of death.

This brave and generous officer, his crew, and all under his command, impelled by humanity, alertly strove to save these wretched ladies and succeeded. A few moments after their safety was accomplished, the schooner sunk.

Amid thanks, vows, and lamentations this worthy officer learnt that Captain Christian was on the island of Saona with his effects. Without neglecting the ladies, he endeavoured to secure a wretch who ought not to live among mankind. This he effected and through the humanity of the ladies used no greater severity towards him than to take him on board and carry him well secured to this capital. He treated the ladies with the greatest courtesy, accommodating them with his cabin, his table, and every convenience.

They have requested me to communicate these circumstances to your Excellency and that, in their name, I should present to you their cordial thanks, assuring you that it is an action which will remain forever impressed on their hearts.

For myself, and in the name of my nation and of all who know of the occurrence, worthy of so cultivated a nation and of an officer of the United States, I present you my thanks with that sincerity which belongs to my character. I shall have the honor to render an account of it to my master the King of Spain, in order that such an action may redound to the honor of this officer, of his flag, and of all his brave and generous crew.

God preserve you many years,

Santo Domingo, Jan. 21, 1801.

May it please your Excellency,

JOAQUIN GARCIA
The Letter of D. Joaquín García As It Appears in the Newspaper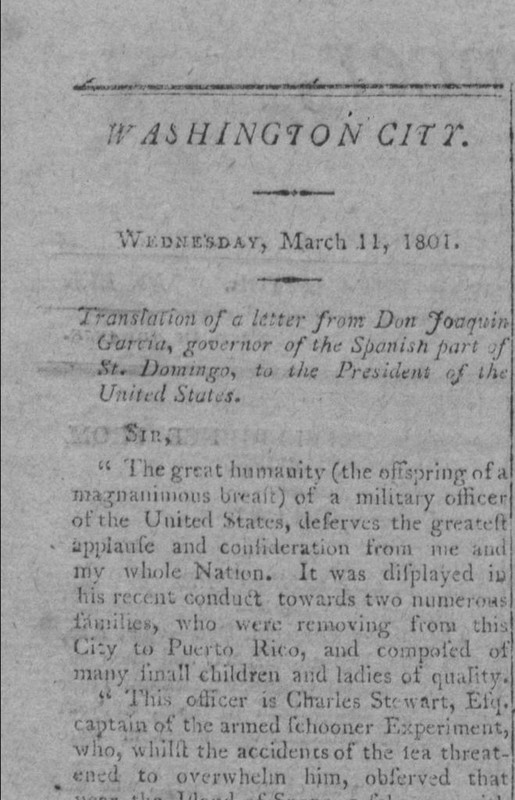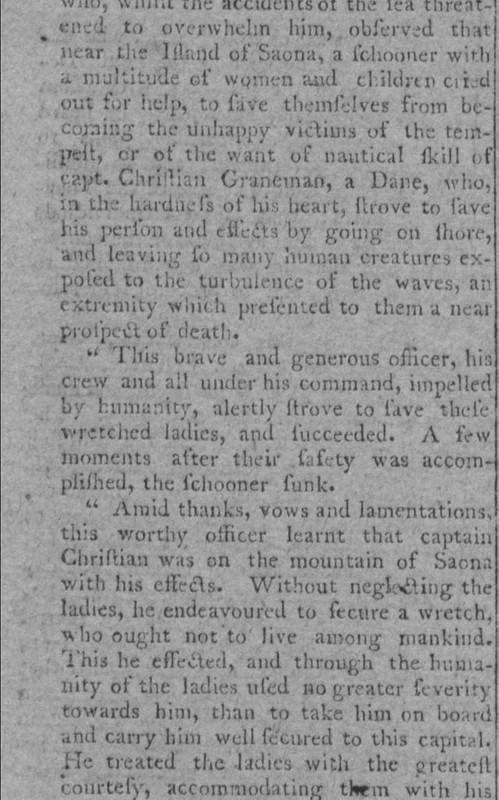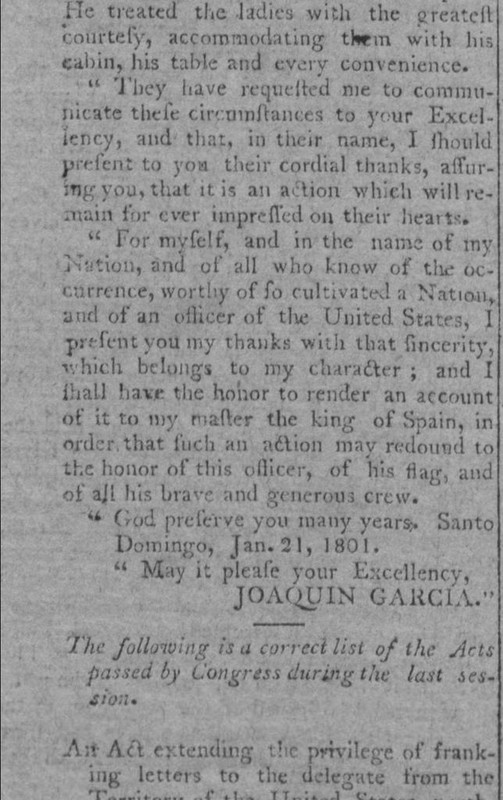 The Full Letter of D. Joaquín García